The price of our chickens is free today
Our free-range chicken in Binh Dinh is a breed of chicken originating in Binh Dinh that is raised by An Moc farm in Binh Phuoc in an organic way, creating a natural and spacious living space with safe food without using industrial bran. growth stimulants, lean substances… Free-range chickens  are chickens raised by free-range farming methods, preventing diseases from plants such as ginger, garlic, lemongrass … Chickens are raised from incubation stage to mature to ensure the safety of everyone's health. The young chicken has been cleaned about 1.1 – 1.5kg/head, so it's easy to eat without getting bored. The quality of the meat is excellent, the chicken  is firm, sweet, low in fat, small bones, yellowish skin and pinkish white meat, not friable, when eaten, you will feel the softness as well as the aroma that is difficult to mix with any kind of meat. any other chicken.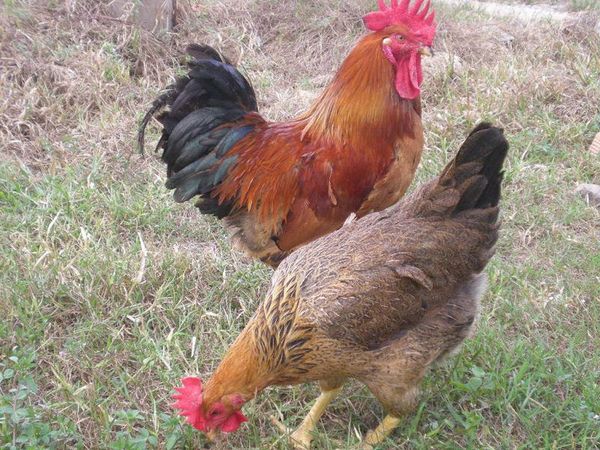 What is the effect of chicken meat we farm in Binh Dinh?
Good for the cardiovascular system
Using Binh Dinh free-range chickens is very good for the heart. It is thanks to the function of controlling the content of Homoccysteine – this is an amino acid that can cause cardiovascular disease if in high levels in the body. Regularly add chicken in meals, especially chicken breast to have a healthy cardiovascular system.
Helps teeth and bones grow healthy
As we all know Phosphorus, Calcium are essential nutrients for the body, especially bones and teeth. Binh Dinh free-range chicken contains a lot of Phosphorus and Calcium to help bones and teeth develop healthy, prevent osteoporosis and some problems with teeth and mouth. Moreover, chickens also help the musculoskeletal system avoid the risk of injury due to external forces.
Eliminate pressure, stress
With today's increasingly busy society, it is inevitable to face pressure and stress in society. Free-range chicken has the effect of reducing stress, helping the body stay healthy and recover quickly. Especially on winter or rainy days, eat a cup of chicken soup to keep warm and increase the body's resistance.
Boost metabolism in the body
Free-range chicken contains a very large amount of Vitamin B6, which contributes to supporting and encouraging enzymes and metabolic reactions of cells in the body. It is this process that helps keep blood vessels healthy, stabilizes energy, boosts metabolism and burns calories in the body.
The process of producing chickens that we free-range in Binh Dinh's garden
Free-range chickens are raised in Binh Phuoc, by An Moc farm controlling the whole process, chickens are grazed in large fields. The feed on the farm is completely natural food, abundant raw materials are grown on the farm through a strict control process to ensure the health of the chickens. Free-range chickens in Binh Dinh raised at An Moc farm are developed naturally, completely without using industrial bran or any other weight gain stimulants.
Production area: Binh Phuoc, Vietnam
Packing:  1,1 – 1.5kg/head (cleaned).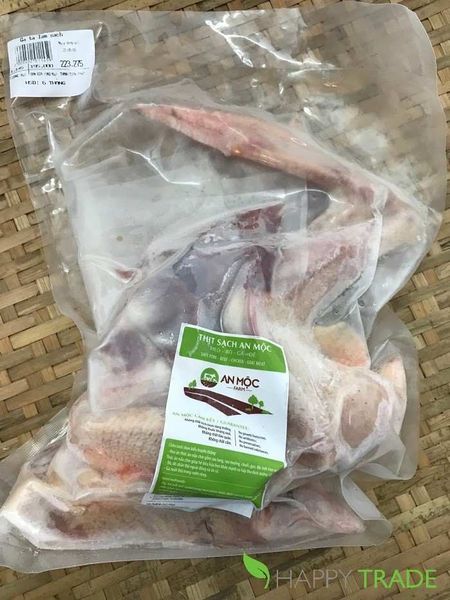 Methods of preservation
In the case of planning to store chickens in the garden for a long time but can not be cooked, the best way is to keep them frozen. Store the chicken in an airtight container, vacuum the packaging before freezing. With this preservation method, you can keep your chickens clean for at least a few months.
Delicious dishes made from chickens we freed in the garden in Binh Dinh
Chicken wings with soy sauce
Chicken wings with soy sauce sauce are not only attractive in taste but also attract gourmets by their eye-catching colors. Chicken wings cut in half, marinated with spices. Then pan-fry until the chicken wings are golden on both sides, add the soy sauce sauce until the chicken is cooked and enjoy.
Chicken wings with golden soy sauce sauce. Source: Internet
Potentially free-range chickens Rambutan
This is a suitable dish for loved ones to improve health and convalescence. Chicken is bought, washed, marinated with spices. Then put rambutan, lotus seeds, goji berries, and ginkgo into the chicken's belly and tie it up. Use fresh coconut water to simmer the chicken for 2 hours for maximum nutritional development.
Nutritious rambutan chicken. Source: Internet
Hot and sour chicken hot pot
Spicy and sour chicken hotpot is a great combination of free-range chicken, shrimp, squid, seafood of all kinds, … creating a sweet aroma, unforgettable taste for people to eat. The dish is suitable at any time of the year, summer cools, winter contributes to keeping the body warm, etc. This is also a dish that creates a gathering together in gatherings of friends or family meals.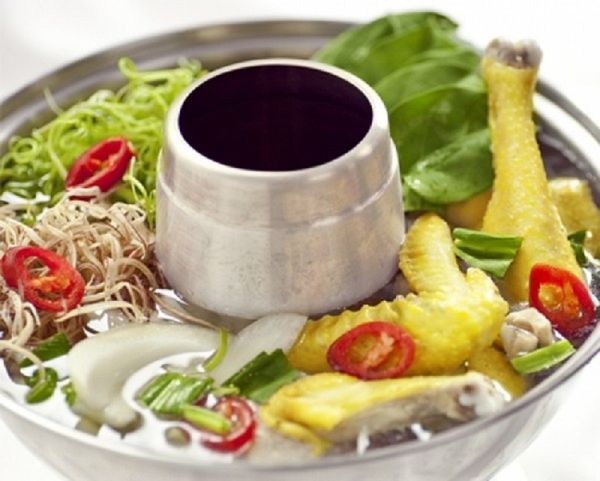 Binh Dinh's garden chicken hot pot is spicy and attractive. Source: Internet
Supplier Information
An Moc – Pure farm specializes in providing 100% clean food from chickens. An Moc chicken is tested for lead-free, cadmium-free, mercury-free, tested for safety for consumers' health with soft, sweet and extremely fragrant meat.